Click on picture to open larger image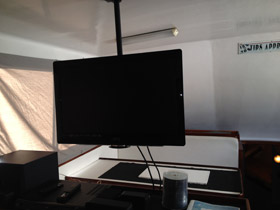 Our social room is where you can come and relax or take a break from fishing. The room has a television set, dvd player, extensive dvd collection, and enough seating for everyone. Also, if you want to bring your own movies, feel free to do so. The social room is a good place to sit and talk or discuss your strategy for catching that next big one.
The Deck, Dining Room, Social Room, Bathroom, Kitchen, Sleeping Facilities
If there is anything that you want to know but don't see here, don't be shy about giving us a call at (305) 587-3437 to see if we have what you need, or if we can get it for you!