Book Now!
| | | |
| --- | --- | --- |
| | The Many Fish of Key West | |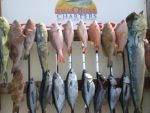 The Florida Keys are home to dozens of different types of fish. On the following pages we've put together some information on some of the more popular types of fish in the Key West area. Here you can learn a little bit about the fish you may catch while you're on the open water. But don't worry, if you don't know anything about the fish, your captain will be happy to help you. With years of experience, he can share with you the inside-tips on how to snag your next trophy.
The pictures on the following pages were provided by The National Oceanic and Atmospheric Administration.
Go To Page 1,2,3,4,5,6,7,8,9,10
(Click on a fish's name to jump to the page about that fish)
African Pompano, Amberjack, Barracuda, Black grouper, Blackfin tuna, Blue Marlin, Cobia, Dolphin, Gag Grouper, Goliath Grouper, King Fish, Mangrove, Mutton Snapper, Red Grouper, Sailfish, Snowy Grouper, Wahoo, Yellow Tail Snapper, Yellowfin Tuna
Trips and Rates: 4 Hour Fishing Tour | 8 Hour Fishing Adventure
24 Hour Fishing Extravaganza | 32 Hour Fishing Safari | 48 Hour Weekday Trip
About: The Captain | The Boats | The Fish | The Keys
History | Map | Attractions | Links
Contact: Email | Phone & Address | Directions
What to Bring | Common Questions | Gallery | Home



Eddie Griffiths Charters
Key West, Marquesas Keys/Dry Tortugas

(305) 587-3437
Contact us

*All Prices Are Subject to Change*
Copyright © Eddie Griffiths Charters.
All rights reserved.