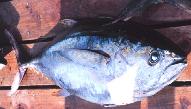 Size: May grow to sizes in excess of 375 pounds!
About: The best months to fish for these magnificent titans are September, October, November, December, February, and March. Besides their excellent quality as food fish, these creatures are popular sport fish, known for putting up an incredible fight.
Go To Page 1,2,3,4,5,6,7,8,9,10
(Click on a fish's name to jump to the page about that fish)
African Pompano, Amberjack, Barracuda, Black grouper, Blackfin tuna, Blue Marlin, Cobia, Dolphin, Gag Grouper, Goliath Grouper, King Fish, Mangrove, Mutton Snapper, Red Grouper, Sailfish, Snowy Grouper, Wahoo, Yellow Tail Snapper, Yellowfin Tuna
Trips and Rates: 4 Hour Fishing Tour | 8 Hour Fishing Adventure
24 Hour Fishing Extravaganza | 32 Hour Fishing Safari | 48 Hour Weekday Trip
About: The Captain | The Boats | The Fish | The Keys
History | Map | Attractions | Links
Contact: Email | Phone & Address | Directions
What to Bring | Common Questions | Gallery | Home



Eddie Griffiths Charters
Key West, Marquesas Keys/Dry Tortugas

(305) 587-3437
Contact us

*All Prices Are Subject to Change*
Copyright © Eddie Griffiths Charters.
All rights reserved.