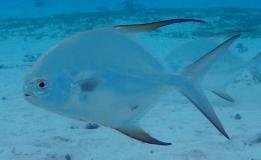 Size: The African Pompano ranges in size from fifteen to twenty pounds. At the higher end of the spectrum, this fish may reach up to fifty pounds.
About: The African Pompano may be caught year-round. It is an exotic-looking fish with a thin, round body and flat snout. It is a highly-rated game fish. It is an ok eat, but probably a better trophy fish. The adults are known to put up quite a fight! The species has a minimum size limit of 24 inches and only two fish are allowed per vessel per day.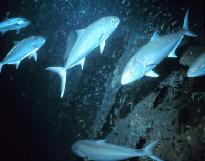 Size: The Amberjack is commonly measured around 20 to 30 pounds, but adults can reach sizes of well over 150 pounds!
About: The Amberjack is commonly found off-shore. These fish like to stay near rocky corals, reefs, floating debris, or shipwrecks. Spring time is best for hunting the Amberjack, but they can be caught year-round.
Go To Page 1,2,3,4,5,6,7,8,9,10
(Click on a fish's name to jump to the page about that fish)
African Pompano, Amberjack, Barracuda, Black grouper, Blackfin tuna, Blue Marlin, Cobia, Dolphin, Gag Grouper, Goliath Grouper, King Fish, Mangrove, Mutton Snapper, Red Grouper, Sailfish, Snowy Grouper, Wahoo, Yellow Tail Snapper, Yellowfin Tuna
Trips and Rates: 4 Hour Fishing Tour | 8 Hour Fishing Adventure
24 Hour Fishing Extravaganza | 32 Hour Fishing Safari | 48 Hour Weekday Trip
About: The Captain | The Boats | The Fish | The Keys
History | Map | Attractions | Links
Contact: Email | Phone & Address | Directions
What to Bring | Common Questions | Gallery | Home



Eddie Griffiths Charters
Key West, Marquesas Keys/Dry Tortugas

(305) 587-3437
Contact us

*All Prices Are Subject to Change*
Copyright © Eddie Griffiths Charters.
All rights reserved.