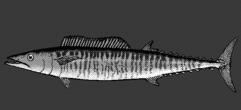 Size: On average, the wahoo can be expected to be around 15 to 35 pounds, but has been known to grow to sizes over 150 pounds.
About: Fall, Winter, and Spring are the best time to fish for Wahoo, but they can be found throughout the year. The flesh of the Wahoo is delicate and white and regarded as very good in quality. This has created some demand for the wahoo as a premium priced commercial food fish. Wherever found, it is a prized sport fishing catch. It is difficult to catch, but considered by many to be quite delicious.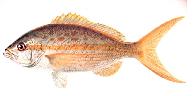 Size: A smaller fish, averaging about 2 pounds.
About: The best time to fish for the Yellowtail Snapper is in the Winter and Spring. These fish are common among reefs, and considered an excellent food fish for lucky fishers.
Go To Page 1,2,3,4,5,6,7,8,9,10
(Click on a fish's name to jump to the page about that fish)
African Pompano, Amberjack, Barracuda, Black grouper, Blackfin tuna, Blue Marlin, Cobia, Dolphin, Gag Grouper, Goliath Grouper, King Fish, Mangrove, Mutton Snapper, Red Grouper, Sailfish, Snowy Grouper, Wahoo, Yellow Tail Snapper, Yellowfin Tuna
Trips and Rates: 4 Hour Fishing Tour | 8 Hour Fishing Adventure
24 Hour Fishing Extravaganza | 32 Hour Fishing Safari | 48 Hour Weekday Trip
About: The Captain | The Boats | The Fish | The Keys
History | Map | Attractions | Links
Contact: Email | Phone & Address | Directions
What to Bring | Common Questions | Gallery | Home



Eddie Griffiths Charters
Key West, Marquesas Keys/Dry Tortugas

(305) 587-3437
Contact us

*All Prices Are Subject to Change*
Copyright © Eddie Griffiths Charters.
All rights reserved.